Concrete Aggregate Heaters
Keeping aggregate at a consistent temperature throughout is essential. This is especially challenging during the coldest months of the year. The solution? A concrete aggregate heater from R.W. Martin Process Water.
The "water" in our name is a bit misleading in this instance though. That's because the Sioux Aggre-Flo® aggregate heater uses a dry heat to prevent the formation of ice and frozen chunks in both fine and coarse aggregates. This maintains the quality and consistency of the aggregate because it doesn't introduce any additional moisture into the mix.
Make sure your concrete aggregate keeps flowing throughout the winter with a Sioux Aggregate Bin Heater from R.W. Martin Process Water!
Sioux Aggregate Bin Heaters
Aggre-Flo® Models AF1 & AF2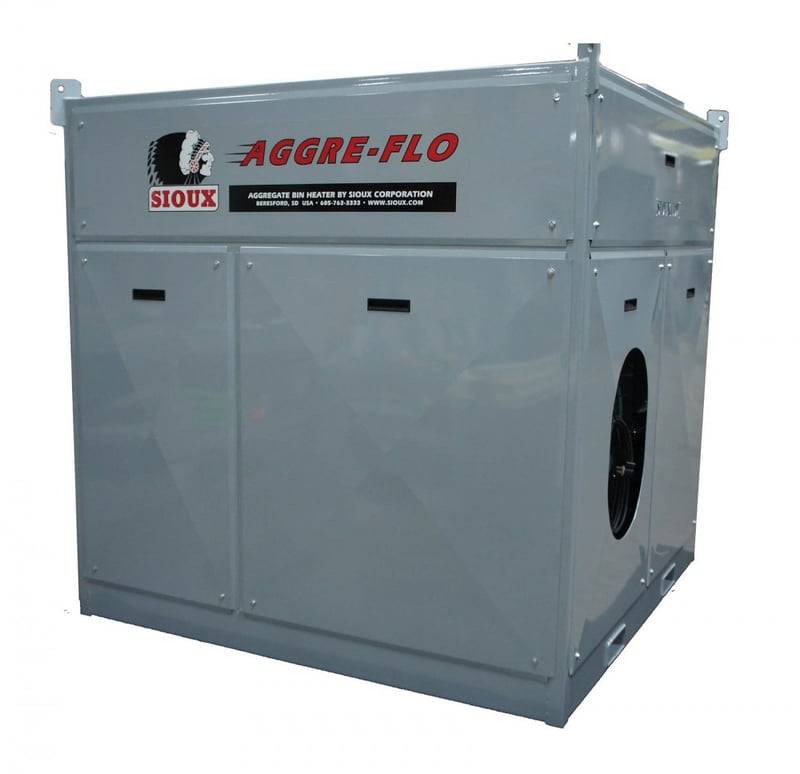 Features
• 1,000,000 or 2,000,000 BTU/hour net heat output
• 4,000 or 8,000 cfm max air flow
• Burner & blower controls
• Can be matched with your existing bin diffusers
• Design provides easy access to burner
• Central controller that can be mounted with your current batch control panels (up to 330 feet away)
• Meets UL-508a and NFPA 86 Standards
Specs
Input BTU/hour – 1,000,000 or 2,000,000

Output BTU/hour – 1,000,000 or 2,000,000

Electrical – 460/3/60

Operating Current – 30 or 58 Amps

Air Flow (cfm) – 4,000 or 8,000

Weight (lbs.) – 2,200 or 3,100
Benefits
• Keep aggregate flowing out of your bins in the winter
• Reduce your total cost of operation through greater efficiency
• Keep your concrete in spec with correct aggregate temperatures
• Control heat for up to 6 aggregate bins from a central controller
• Can be expanded for additional capacity, up to 4 additional bins per expansion pack
• Keeps your employees safe – No more climbing to beat on bins
Contact R.W. Martin Process Water Solutions