Pressure Washers & Steam Cleaners
Ensuring that your equipment and your environment are clean is absolutely essential. Dirt, grease, oil, and a host of other built-up residues will negatively impact your equipment's efficiency. This build-up may even harm the health of your employees and your customers. Pressure washers and steam cleaners are a great way to eliminate unwanted substances from a range of surfaces including metal, concrete, and brick, and beyond.
R.W. Martin Process Water, in partnership with Sioux Corporation, gives you a host of pressure washer and steam cleaner options, including:
• Stand-alone or combination pressure washer / steam cleaner units
• Fuel-fired or electrically-heated steam cleaners
• Compact, portable steam cleaners for use in tight spaces
• Pressure washers that use cold water only
Industrial Pressure Washers
Industrial pressure washers are vital for helping to clear away tough-to-remove grime from surfaces. This can be especially important in environments where trips or falls could be extremely serious issues. It also is useful in the hospitality industry as these types of businesses want everything to look as appealing as possible. Sioux makes available several different types of commercial pressure washers, including industrial cold pressure washers for applications where high temperatures are not required.
Industrial Steam Cleaners
Ordinarily, commercial steam cleaners are for entirely different applications than industrial power washers. Professional steam cleaners have a smaller nozzle that directs the flow of hot steam to a more targeted area than what pressure washing can do. Because of their precision, industrial steam cleaners can be used for degreasing dies and tools, monuments in cemeteries, and more. Sioux offers electrically heated industrial steamers, fuel fired, or safe stream units.
Steam Pressure Washers: The Best of Both Worlds
If you are facing a project that will require both the wide-ranging abilities of power washing as well as the precision targeting of steam cleaning, explore Sioux's steam cleaner pressure washer products. This combination pressure steam cleaner would be useful for jobs that require cleaning broad areas like sidewalks as well as more refined spaces like stone monuments or sculptures. Brickwork cleaning would also be an ideal application for a pressure washer with steam cleaning abilities. Steamer pressure washers are efficient, easy to move, and will complete your task effectively.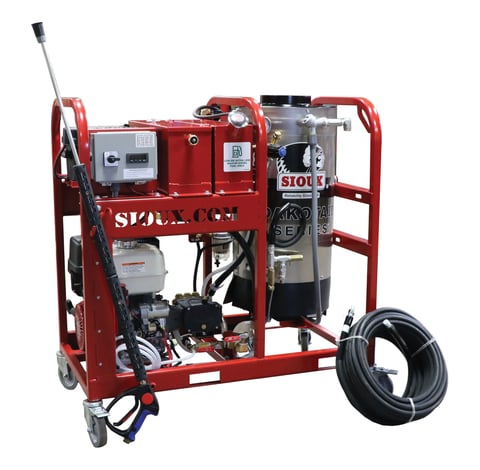 Sioux H3.5D3000-G Engine Driven Dakota II Series Pressure Washer/Steam Cleaner
Uses for Pressure Washers & Steam Cleaners
• Remove dirt, grime, and chewing gum from brick, stone, or concrete
• Clean fats, grease, and oils from surfaces and equipment in food processing plants
• Degrease tools and equipment in manufacturing settings
• Thaw frozen pipes and culverts
• Degas fuel tanks prior to welding and clean engines and drive trains before servicing
• Heat railway tank cars to facilitate the removal of viscous liquids
• Prepare surfaces for painting by removing oils and other residues
• Melt grease, wax, or paraffin blocking drains and traps in water treatment plants or refineries
Solutions Available from R.W. Martin Process Water
Sioux Pressure Washers & Steam Cleaners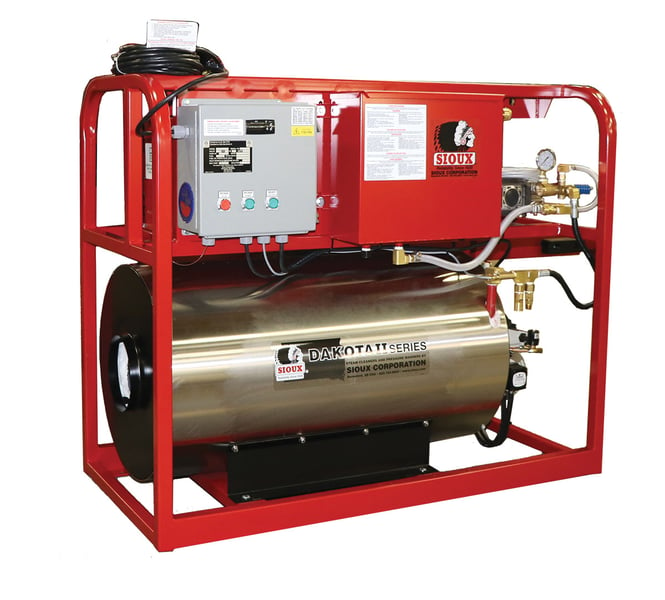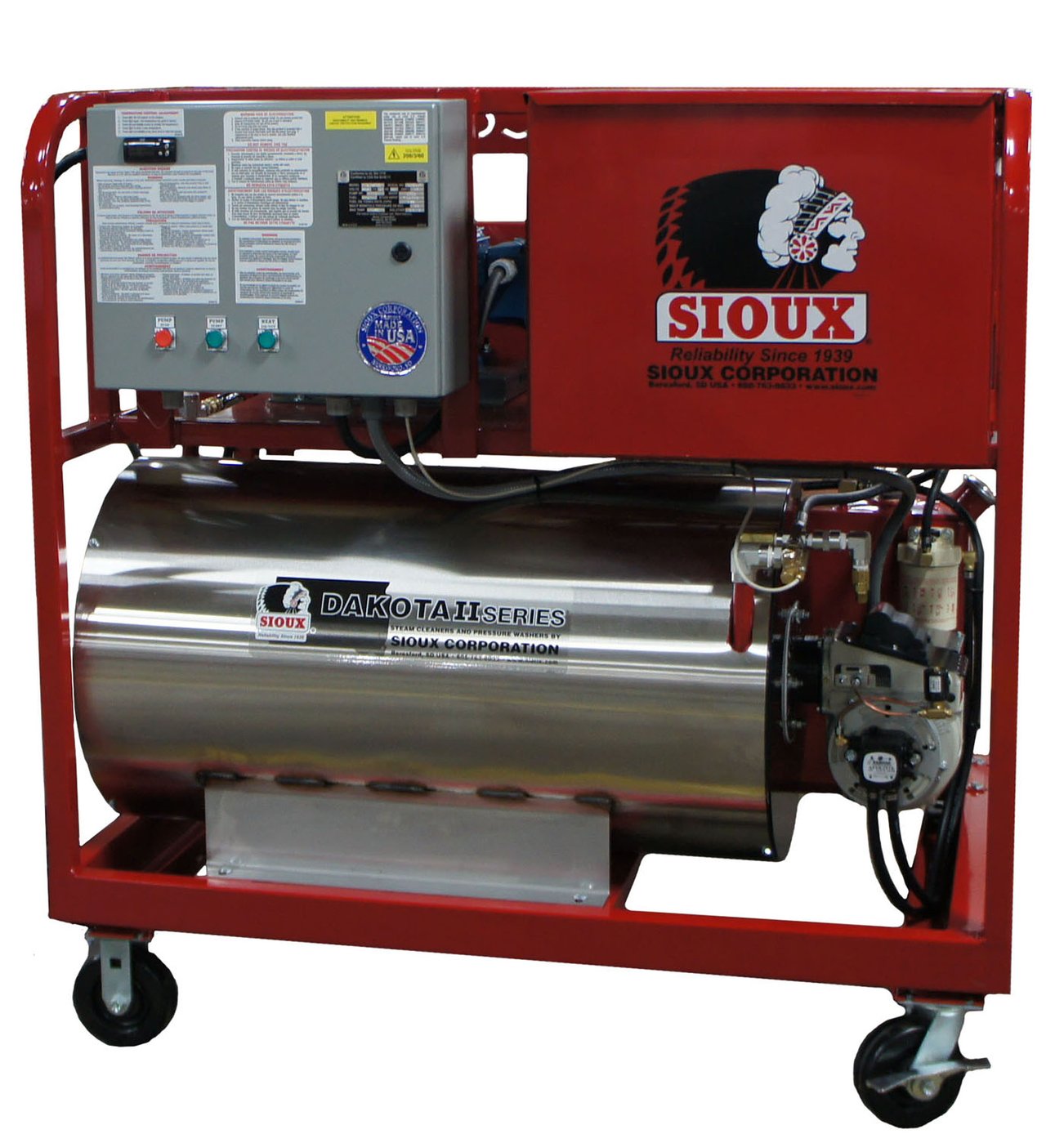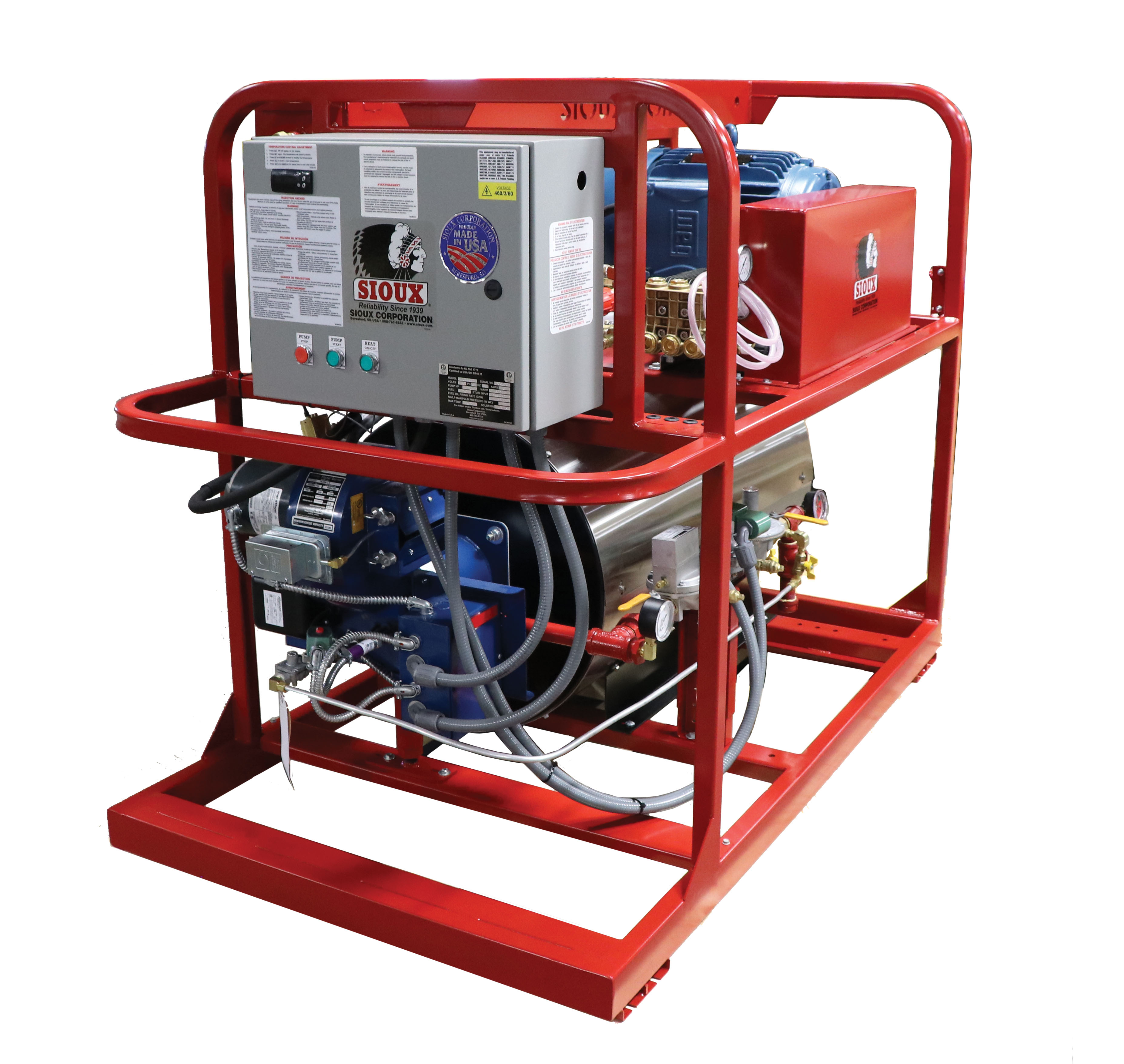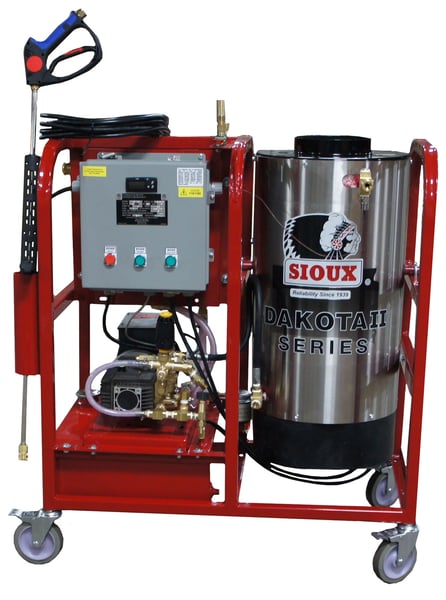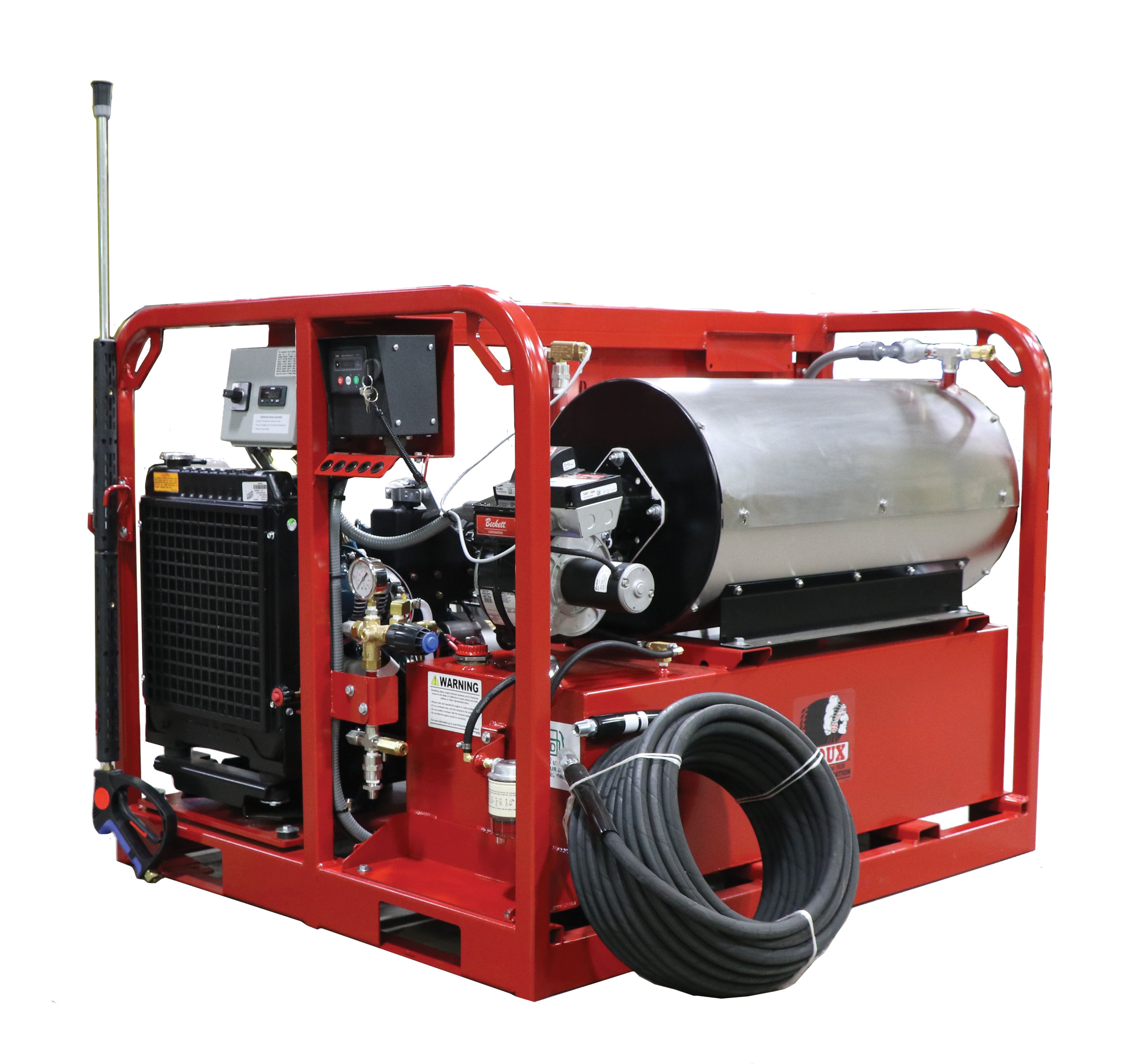 H5.5D3000-D Pressure Washer/Steam Cleaner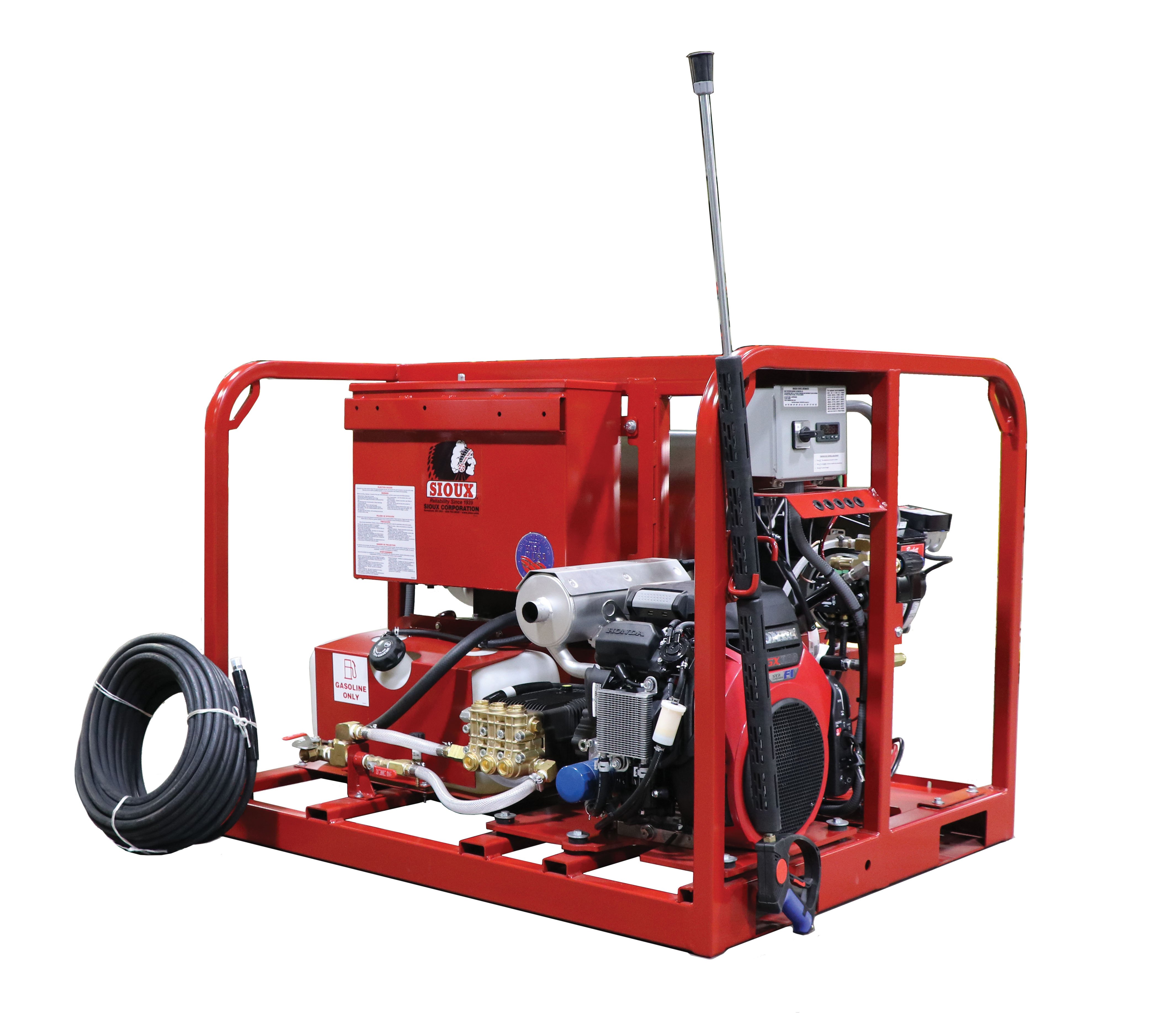 H5.5D3000-G Pressure Washer/Steam Cleaner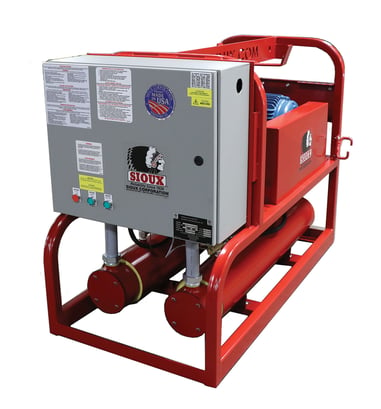 EN4.0P3000 Pressure Washer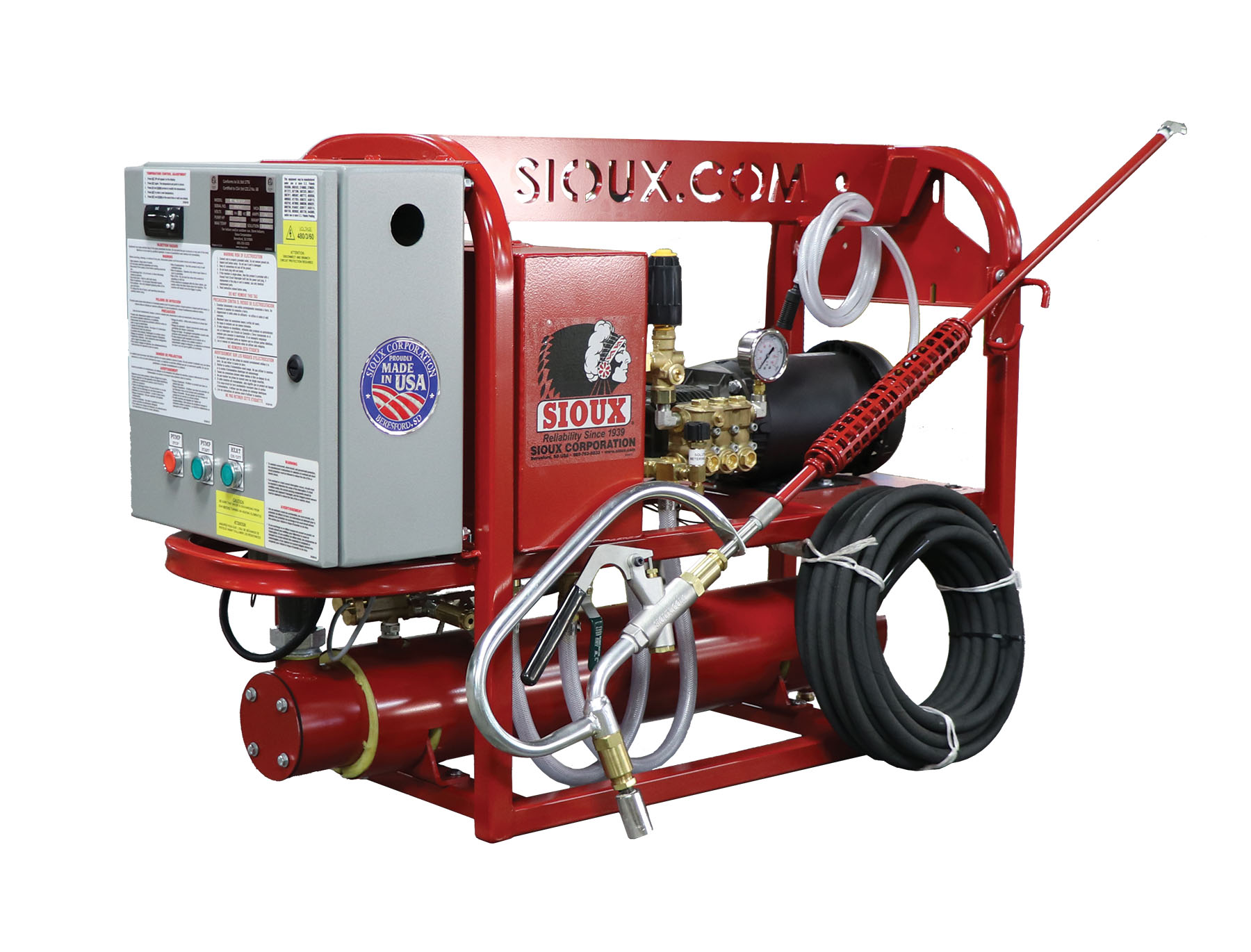 E2.4HS1200 Pressure Washer
What is a Steam Cleaner Pressure Washer?
A steam cleaner pressure washer is used for both commercial and industrial cleaning applications. Steam pressure washer models have greatly improved over the years, making them ideal for versatility and power. Whether facility owners are looking to buy their first set of steam pressure washers or just upgrade an existing model, there are numerous options to choose from. R.W. Marin is proud to offer multiple models from the Sioux Pressure Washers: Dakota Series.
To fully understand the benefits and applications of a steam cleaner pressure washer, it's important to know how steam pressure washers operate. Each unit heats water to approximately 200° to vaporize the water. A pressure washer steam cleaner combines the power of steam with the strength of pressure for the ultimate cleaning equipment. The high temperature of the vaporized water provides the additional benefits of sterilized water, and therefore sterilized surfaces.
Benefits of a Steam Cleaner Pressure Washer
Due to their strength and reliability, steam pressure washers can be used in a variety of applications. Sioux steam pressure washers are ideal for:
• Degreasing
• Removing oil
• Sterilizing
• Dissolving resins
• Melting
• Thawing ice buildup
• Rinsing away chemicals
• Degassing
• Removing dirt and grime
Many auto shops or industrial facilities use a hot pressure washer with steamer to get rid of encrusted dirt, grime, and other dried-on substances. Alternatively, cold water pressure units are ideal for vehicles, facilities, and ground maintenance areas such as sidewalks or architectural structures. To maintain the durability of your pressure washer steam system, you need to perform regular maintenance to the unit. This will help ensure your pressure washer steam cleaner is working to its full potential and can complete each job.
Why Choose R.W. Martin?
R.W. Martin is the leader among water solutions for 3 reasons:
• We have 50+ years of experience
• Reputation comes before profit
• We're a one-stop shop for all of your needs
We are always striving to be the water solution partner you rely on. Whether you work in manufacturing, food processing, concrete production, or commercial laundry, R.W. Martin has the solutions for you. Contact us today for all of your water solutions and industrial laundry needs.
Contact R.W. Martin Process Water Solutions