You have almost certainly seen a mezzanine at some point. Maybe that mezzanine was in an industrial setting, such as a factory. Perhaps it was in a store. It may have even been in a concert venue.
Despite having seen and perhaps stood on so many of them, it's possible that you never really thought that much about just how versatile mezzanines can be. If so, Martin Vertical Storage intends to change your mind.
Nearly Any Facility Can Benefit from a Mezzanine
To illustrate what we mean, here is a (by no means exhaustive) list of just a few of the sectors and facilities that will gain valuable space from the addition of a mezzanine.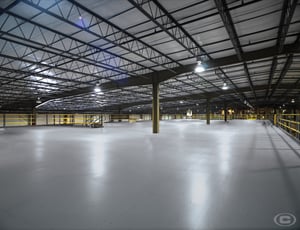 Warehouses and Distribution Centers
Mezzanines are a great solution for a storage or distribution hub that is rapidly expanding and, perhaps just as rapidly, running out of space. More capacity leads to better organization. And better organization increases efficiency. Higher efficiency means a better bottom line.
Parts Departments
A mezzanine is an excellent way to organize inventory that you may need to house in a confined area while still maintaining easy access. From auto parts to industrial components and beyond, a mezzanine gives you the additional functional space you need.
Industrial Facilities
Installing a mezzanine in a manufacturing plant won't just increase your usable space, it may also make your facility a safer one. A catwalk mezzanine, for instance, can provide a designated passageway for personnel to traverse a production area, avoiding the plant floor.
Retail Stores
Keep your customers happy by giving them ample space to shop while admiring your wares. You won't need to relocate as you expand if you can showcase your additional goods with a mezzanine.
Recreational Areas
Fitness centers, sports complexes, and kid zones can all benefit from the installation of a customized mezzanine. Create additional storage space for sports equipment, increase the area that houses exercise machines, and so much more.
Any Other Facility that Needs Extra Space
If your venue can use extra room but you don't want to deal with the costs and hassle of building on or relocating, then you'll benefit from installing a mezzanine.
Contact Martin Vertical Storage Today
Would you like to learn more about how a mezzanine could bring much needed space to your business?
Contact the mezzanine specialists at Martin Vertical Storage to learn more. Call 800.635.4363 or email info@rwmartin.com. You can even request a mezzanine quote. Get ready to start down the path to a world filled with more space for you and your company!